Home > Public Transit > Find a Provider > TCATA > Services > Fixed Routes
Fixed Route Service
The Twin Cities Area Transportation Authority (TCATA) provides fixed route service which follows a defined route, picking up and dropping off passengers at designated stops. You can find out when the bus will arrive at the bus stops and other destinations by using a timetable or schedule. It is recommended you arrive at the bus stop 5-10 minutes early to ensure you do not miss the bus.

Fixed route service offers a significant cost savings over Dial a Ride curb-curb service - the fares are only $1 each way (50 cents for seniors, children, and persons with disabilities)!
Passengers have the option to be dropped off or picked up at several different points in between the stops. These are called "flex stops" and there are over 100 stops that can be accessed on the Blue and Red Route.
Red Route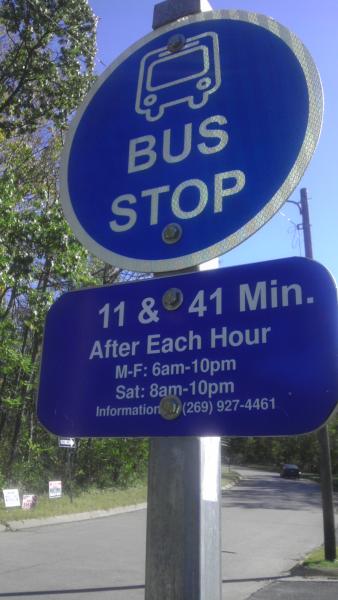 The Red Route makes a one-hour loop through Benton Harbor, St. Joseph, St. Joseph Township, and Stevensville. Hours for the Red Route Monday through Friday 6am to 10pm and Saturdays from 8am to 10pm.
Blue Route
The Blue Route, formerly known as "The Special" or the "Line Haul" route has been operated by the Twin Cities Area Transit Authority for several years. It makes a one-hour loop through Benton Harbor and the Benton Township (Fairplain) retail area. The Blue Route runs twice an hour, servicing some locations four times an hour.
Request a Stop Option (Flex Service)
Passengers have the option to be dropped off or picked up at several different points in between the stops. To be dropped off at locations in between stops, let the driver know the location you need to be dropped off at as you are boarding the bus. To be picked up at locations in between stops, you must call to request a pickup by dialing (269) 927-4461. Be sure to specify to the dispatcher which route you would like the pickup on.

The flex stop service is available on a time permitting basis and may not be available during peak service times of the day. Please call in advance to arrange a flex stop pickup. Below is a listing of hundreds of other flex stops that are along the blue and red routes.
This page last updated on 6/24/2013.
Days/Hours of Operation
M-F 6:00 a.m. - 10:00 p.m.
SAT 8:00 a.m. - 10:00 p.m.
Learn How to Use
the Fixed Route System
Learn How to Load
Your Bike on the Bus
This website is made possible through a Federal Transit Administration 5317 grant and the Michigan Department of Passenger Transportation.  It is managed by the Southwest Michigan Planning Commission who is providing this database solely for informational purposes.  It disclaims all responsibilities for errors, omissions, changes, and other agency representations. SWMPC's listing of agencies does not constitute an endorsement by SWMPC of the agency, business, guarantee of availability of service, guarantee of the quality of service.  Further, SWMPC does not represent for other agencies the compliance with all legal requirements for providing services, compliance with federal, state, local and equal employment opportunity and anti-discrimination laws and acknowledgment of good standing with appropriate licensing authorities, if any. SWMPC further disclaims liability for such compliance and licensing requirements.