Home > Mobility Resources > Seniors
Senior Resources
On this page you will find resources by county, region and downloadable guides on a variety of topics.

Berrien County

Berrien County senior centers offer free transportation and resources to residents 60 years and older. To find the nearest location click here
Cass County

The Cass County Council on Aging (COA) is the one-stop shop to resources for seniors ages 60 years and older. The COA offers free transportation for seniors, monthly shopping trips and serves as a pickup location for Veteran's shuttle bus services for hospital trips.
Van Buren County
Senior Services of Van Buren County Ride Easy Program provides qualifying seniors with transportation to and from medical care appointments.
Leisure and enrichment services are located in several different locations throughout Van Buren County! Check out a location near you.
Regional Senior Resources
Senior Companions are specially trained volunteers age 55 and older who provides support, companionship, help with daily tasks, and respite for caregivers. Senior companions provide transportation for doctor appointments, errands, or social activities. For more information please call 269-983-7058 or toll-free at 877-660-2725
Transportation Guides

Thinking ahead to alternative transportation options can give you peace of mind should your current means of getting around in your community change in the future. This brochure will assist you to learn about various alternative transportation options and some things to consider to help you make confident decisions about which option would be best for you.
Getting By Without Driving, a brochure published by the American Medical Association was developed for older drivers, caregivers, and physicians to provide safety information and driving alternatives for older Americans.
AARP offers a free online seminar called We Need to Talk that will help you determine how to assess your loved ones' driving skills and provide tools to help you have this important conversation.
Did you know...
The 85+ population is expected
to increase from 4.4 million in
2000 to 5.7 million by 2010,
a 29.5% increase.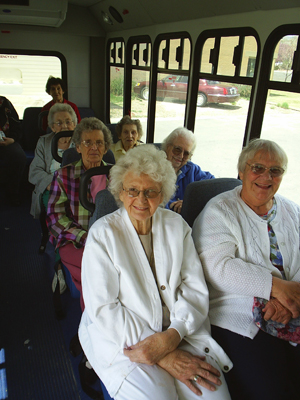 Seniors Top 10
Accessibility Challenges
• Getting to and from vehicles
• Getting into and out of vehicle
• Opening doors
• Getting on coats, shoes, and boots
• Getting in and out of chairs
• Carrying packages
• Using assisstive devices
• Finding help at destinations
• Using public transit
• Fear

This website is made possible through a Federal Transit Administration 5317 grant and the Michigan Department of Passenger Transportation.  It is managed by the Southwest Michigan Planning Commission who is providing this database solely for informational purposes.  It disclaims all responsibilities for errors, omissions, changes, and other agency representations. SWMPC's listing of agencies does not constitute an endorsement by SWMPC of the agency, business, guarantee of availability of service, guarantee of the quality of service.  Further, SWMPC does not represent for other agencies the compliance with all legal requirements for providing services, compliance with federal, state, local and equal employment opportunity and anti-discrimination laws and acknowledgment of good standing with appropriate licensing authorities, if any. SWMPC further disclaims liability for such compliance and licensing requirements.